China has been one of the world's fastest-growing economies for three decades, and much of that success has come from the amazing growth in its manufacturing sector. However, in recent years China's manufacturing sector has seen a significant slowdown, as overcapacity, increasing labor costs and the transition into a more developed economy have transformed the nation. And with those changes, China's steel sector has similarly seen growing challenges.

In response, China's government and industries are turning to the Fourth Industrial Revolution, seeing the increased integration of information technology, big data and the internet as the key to revive its manufacturing sector and create new opportunities for growth.



How is China preparing for the Fourth Industrial Revolution? And how will that affect their steel industry? Those are the topics explored by Dr. Chang-do Kim, senior principal researcher at POSCO Research Institute (POSRI), in the most recent issue of POSRI's Asian Steel Watch.





China's Approach to the Fourth Industrial Revolution



The Fourth Industrial Revolution refers to the combining of the Internet of Things (IoT), big data, artificial intelligence (AI), cloud computers and all the other emerging smart IT technologies to create a faster and more powerful industrial system that blurs the boundaries between the physical, digital and biological. In Germany, "Industry 4.0" is the official approach to this new era, while in the United States, officials talk about the "Industrial Internet."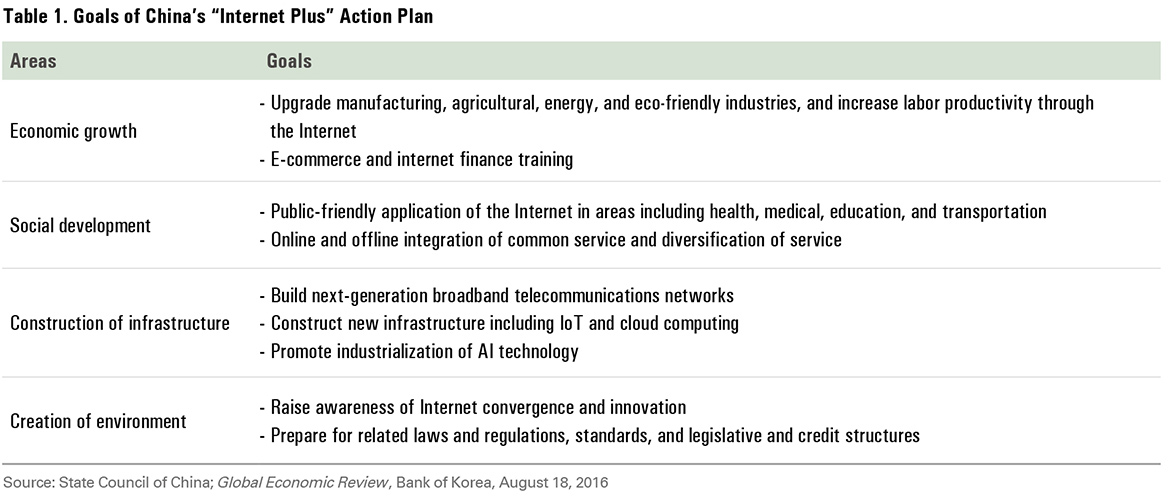 In China, there are two complementary government policies for the Fourth Industrial Revolution: "Made in China 2025" and "Internet Plus." Internet Plus was introduced in March 2015, featuring an action plan of integrating mobile, cloud computing, big data and the IoT with manufacturing to help develop e-commerce, industry networks and the international presence of Chinese companies.
Made in China 2025 is even larger in scope, with five "basic directions", four "guiding principles," nine "objectives", five "key projects", 10 "priority sectors" and eight "actions for policy improvement" from 2015 to 2025. But the main emphasis of these many plans and aims is clear: innovation.

Made in China 2025 is also just the first step in a three-stage plan to boost China's manufacturing and innovative capabilities over 35 years. The point of the ambitious, long-term strategy is to make China a world-leader. At the moment, China sees the world's top manufacturers divided into three tiers, with the United States at the top, and Japan and Germany in the second tier. China considers itself to be third-tier now, but plans on becoming second-tier by 2025 and the leader of the second tier by 2035, finally becoming top tier by 2049. And at the heart of all those manufacturing plan is the Fourth Industrial Revolution.


The Potential of Smart Factories in China

A big part of modernizing industry involves building smart factories – factories that have been transformed through sensors, programmable logic controllers and other control systems, along with advanced manufacturing applications. And at the heart of smart factories is cyber-physical systems (CPS), which integrate the physical side of manufacturing with the digital.
One market research company predicts that between 2014 and 2020, the world market for smart factories will grow at 5.4 percent CAGR, rising from US$41.3 billion to an estimated US$56.6 billion.
China has been the world's biggest manufacturer since 2010, which gives it a significant advantage in moving toward the future, especially in compiling big data. Having a government willing to provide such heavy support is also a great boom to industries.
However, China also faces significant challenges. Manufacturers around China have greatly different levels of development, with most falling between Industry 2.0 and Industry 3.0 these days. Many analysts think it is more important to get most manufacturers up to Industry 3.0 before pushing onward to Industry 4.0.
Others point out that China is lacking the experts needed to implement smart factories properly. Without the ability to build and analyze big data and CPS, becoming a next-generation leader will be extremely difficult.
However, the Chinese government is already aware of this problem, and is trying to create a phased introduction for smart factories, adding more sophisticated advances as its domestic industry becomes able to handle them.
How Smart Factories Are Transforming China's Steel Industry

These days, China's steel manufacturers are facing major challenges to profitability due to overcapacity, environmental regulations, rising costs and other factors. So there is much optimism that introducing smart factories will prove to be quite helpful for the steel industry.

The Baosteel Group's subsidiary Shanghai Meishan Iron and Steel is already implementing smart manufacturing into its development strategies. Baosteel is also looking to introduce an e-commerce platform, and make other IT advances.

But with the different levels of development among China's various steelmakers, experts think phased implementation of smart factories will be needed in this sector, too, along with a selection and concentration of companies. For small- and medium-sized steelmakers, the emphasis should be on the early stages of automation and management, looking at such areas as manufacturing records and defect logs.

For larger manufacturers, the focus should be on creating real-time systems that connect the automation control of their factories. And for the largest steelmakers, they can work on multifunctional intelligence, wired and wireless communication with AI and autonomous productions of facilities and systems.

In China, as in the rest of the world, the challenges presented by the Fourth Industrial Revolution are forcing manufactures to move their capabilities swiftly into the future. And for China's steel industry, that future is beginning to take shape now. Just as China shocked the world with its rapid rise into a manufacturing powerhouse, now it looks to lead the way with Industry 4.0.


Source from
posco